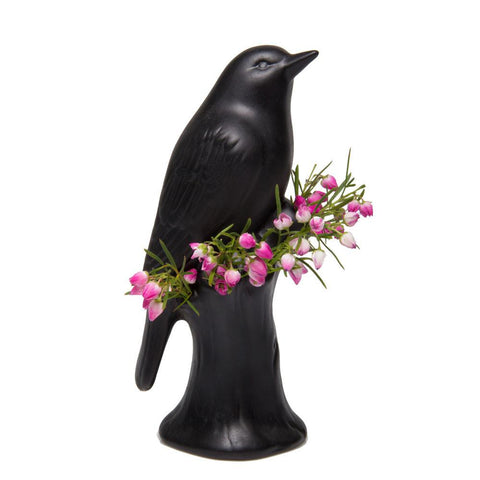 Sold Out
Matte Black Porcelain Bird Vase, by Chive
$ 20.00
This product is unavailable
Porcelain Bird Vase from Chive. 
Upon first glance at the Porcelain Bird, most people underestimate this bird vase and relegate her to the traditional end of the spectrum. But don't let the Porcelain Bird modern white vase fool you, she is one of the most widely loved vases in Chive's history, the matte black is soooooo perfect with your décor to make those flowers pop!
The Porcelain Bird has a larger hole on her backside that you can use to fill her with water and there are five small holes along her breast that you can fill up with flowers. Try throwing in some itty bitty air plants! The end result leaves a lush landscape for her to rest in. This bird vase is fully glazed inside so it won't leak.
Each Bird is 3.5"  in diameter and 8.75" tall.
Flowers We Love in this Vase: Freesia, Ranunculus, Bouvardia, Air Plants, Kermit Mums, Sweet Green Trick (Dianthus), Craspedia.
This guy has cool friends you'll like!