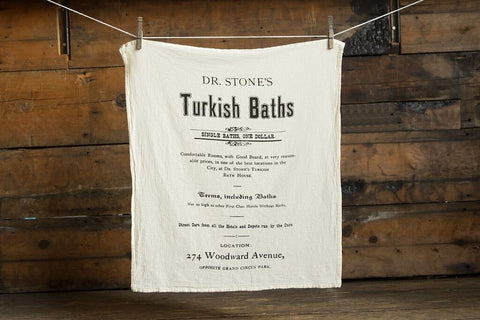 Turkish Baths Flour Sack Towel, Detroit Advertising Print
$ 18.00
Turkish Baths Flour Sack Towel. Detroit Vintage Advertising Print. Back in the late 1800s, public bathing was really the only game in town, and few moderately priced hotels even had bathing facilities on-site! Now that's a lot of strangers' pasty butts! Revel in the nostalgia, and thank your lucky stars for cushy, personal indoor plumbing.

Choose organic cotton or Egyptian cotton tea towel. Hand screen printed in the USA in our Detroit, Michigan studio.

Natural, Unbleached Flour Sack Towel
• 100% Organic Cotton
• Natural, off-white
• Fabric milled and sewn in Michigan
• 4 sewn edges
• Towel measures approx. 21" x 26"
• Printed image is 14" x 24" 

-or-

White Flour Sack Towel
• 100% Egyptian Cotton
• Bright white
• Imported fabric
• 2 selvage edge, 2 sewn edge
• Towel measures approx. 28" x 30"
• Printed image is 10" x 20" 

Dress up your kitchen or bathroom with an ad from the turn of the century. Original illustration based on a late 1800s, vintage Detroit advertisement. Perfect for kitchen or bar use, display & entertaining. Makes a fun and unique man cave or hostess gift!

Love this print? Check it out on our throw pillow or chef apron!
This guy has cool friends you'll like!